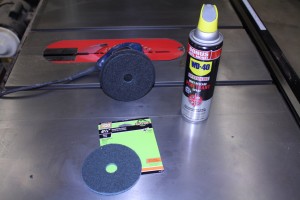 It seems like in the winter, no matter how often I clean and lubricate my cast iron tables on the various tools, I still manage to get some rust spots.  Maybe it's condensation.  Maybe I left a piece of damp wood on it.  Who knows?  I do know that those spots can be hard to get rid of.
I've tried the various products aimed at rust removal and surface prep and protection. Most required a fair amount of elbow grease to get the rust off.  Some smell terrible.  And most are rather expensive.  I've never had much luck with these.  I still have some spots on surfaces that they didn't completely remove.
The picture below shows some spots on my SawStop Table Saw.  I've cleaned that spot I don't know how many times, and the rust spots never completely come off.
I picked up some WD-40 Specialist Rust Release Penetrant Spray, and some Gator 4 1/2″ Finishing Discs, in Fine grit, meant for an angle grinder.  They had a backing that looked like it would stick to the hooks in the hook and loop backer pad on my random orbit sander.
They stuck pretty well.  Not perfectly, but they would do.  I have since found these Gator 5″ Hook and Loop discs that would probably work a little better.  I may order some once the two I bought wear out.  They've even got a polishing disc, item number 3737, if you want an even shinier surface.  I haven't found that one in any stores.
I sprayed the surface down with the WD-40 Penetrant and went to work sanding the entire surface, taking a little more time over rust spots.
After about 10 minutes, I had it pretty good.
Then I just wiped the slurry off with paper towels.  The table looked amazing.  You can still kind of see where the rust spots were, but the rust is gone.
Next, I went to my Jet Bandsaw.  This table takes a lot of abuse because I cut a lot of wet wood on it, green bowl blanks and such.  Well, this table had a lot of spots.
I sprayed it down and sanded for about 5 minutes.  Not long at all.  I wiped it off, and the rust was gone.
The table looks almost new.
This stuff is pretty good.  Would regular WD-40 have worked just as well?  Maybe, I may have to give it a try.  I still have a few tables that need cleaning.